View
Regional Training course on 'Clinical and Technological Aspects of Radiotherapy for Uterine Cervix Cancer'
Name

admin

Date

2005.03.11

Views

5861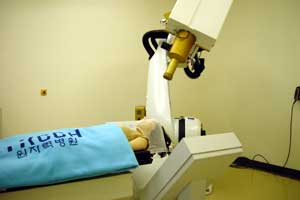 IAEA/RCA Regional Training Course on 'Clinical and Technological Aspects of Radiotherapy for Uterine Cervix Caner' will be held at Maebashi-si, Japan in 7-11 July 2003. The main purpose of this Training Course is to enhance knowledge on teletherapy and brachytherapy, as well as surgery, pathology, imaging, chemotherapy and molecular biology of uterine cervix cancer.
In the RCA Region, it is noted that lack of adequate training in clinical and technical aspects of radiotherapy for uterine cervix cancer is depriving many women of optimum treatment for this cancer that is so common in the region. The planned training course will improve the quality of radiotherapy for uterine cervix cancer in the RCA Region. It is also noted that the Forum for Nuclear Cooperation in Asia (FANCA) is collaboratively engaged in research to develop optimum techniques that may be disseminated to RCA Member States.
Radiation oncologists (medical doctor), with minimum 2 years experience and active involvement with treatment of cervix cancer are encouraged to participate in the course. For further contact,
tnakano@med.gunma-u.ac.jp
or Fax: +81-27-220-8397.